Download Task Launcher for Windows Mobile 6.5.3

The new taskbar at the top in Windows Mobile 6.5.x is significantly wasting screen real estate of mobile phone. It just drop downs a set of notification icons which is probably less functional for you. You could change this to make something meaningful like having quick launcher.
Here is Task launcher developed by RAMMAN of XDA Developer forum it's a little tool that shows a customizable launch pad when you hit the taskbar. If you don't like this launch pad you can also launch something else instead.
You can also disable HTC Notification, Samsung notification if you're on OMNIA, or the annoying taskbar from newer 6.5.x builds.
Installation – Run the CAB file on your phone. All files are copied into program files directory. There's also a shortcut installed in \Windows\Startup to automatically launch it after reboot. After installation the Taskbar Launcher is not yet running. Sorry this is only first beta. So go into the program directory and launch tbl.exe or if you're too lazy just soft reset.
Usage – Hit the taskbar and then the icon of the program you want to launch. The close button below hides the window again. You can also tap and hold anywhere in the window and a little popup menu appears. Here you can stop Taskbar launcher.
Task Launcher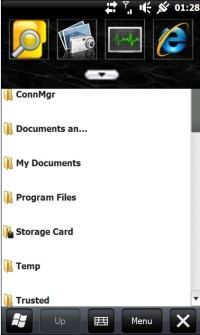 Download Task launcher for Windows Mobile 6.5.3.
Similar Posts: