Turn Off Laptop Monitor with System Tray App DARK
Often you want to turn off laptop or PC monitor only to find out you can't do that unless you hibernate or standby your computer. Especially Laptops, where it's difficult to turn off the screen without putting the laptop on standby!
Yesterday we has covered MonPwr utility to turn of laptop monitor now here is yet another similar open source system tray app DARK developed by our friend Shoban of codegeeks.net.
DARK – is a little open source .net application to turn off your laptop/computer monitor by double clicking a Notify Icon.
DARK – Turn Off Monitor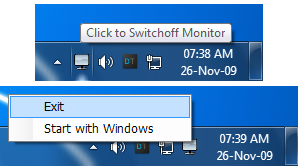 Similar Posts: