Display your Mac's screen on your iPhone with TeamViewer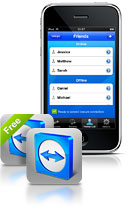 There are many apps on the App Store that allow you to access your computer in one way or another, all with features similar to the TeamViewer app which allows you to do the same. However, unlike many of the other apps available, TeamViewer works together with the developer's desktop software creating an experience that is more streamlined than the majority of the other similar apps. The app will work over EDGE, 3G, and Wi-Fi (unlike other similar apps) and will feature some of the best security features including working well behind proxy servers and firewalls using 1024-bit RSA key exchanges and 256-bit AES session encoding. Below is a list of  TeamViewer and a link to download the app.
The apps is available for iPod Touch and iPhone users running iPhone OS 2.2.1 or higher and is free for non-commcerical use. However there is also a pro, paid version for those that need more advanced features such as the ability to access and track several computers in a network. Below are some screenshots of TeamViewer and a link to download the app.
TeamViewer's Features:
– Both spontaneous support and remote access to unattended computers are possible
– Convenient control via multi-touch gestures: left click, right click, drag & drop, scroll wheel, zoom, change monitor
– complete keyboard incl. special keys such as Ctrl, Alt, Windows®
– reboot the remote computer
– automatically decrease the screen resolution of the remote computer
– integrated partner list – see which computer or partner is online
– trouble-free use behind firewalls and proxy servers
– highest security standards: 256 Bit AES Session Encoding, 1024 Bit RSA Key Exchange
Similar Posts: